by Kyle Michaelis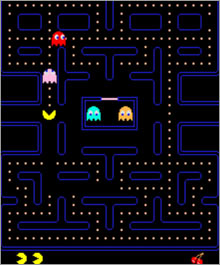 As the world celebrates the
25th anniversary
of the legendary arcade game Pac-Man, let's take a moment to recognize Nebraska's own PAC-Man, freshman Congressman Jeff Fortenberry. Like the original Pac-Man, Fortenberry has proven quite adept at eating up gold pieces for his campaign and staying one step ahead of the ghosts chasing him, especially his ties to corrupt House Leader Tom DeLay. Here's the AP report that earns Fortenberry the comparison:
Donations from

special-interest groups

accounted for 41 percent of the money raised in the 2004 election cycle by Nebraska Republican Rep. Jeff Fortenberry - ranking him 10th among 41 freshman House members.

Nationally, freshman House members got an average of 28 percent of their money from such groups during the 2004 election campaign, according to a report released Thursday by the Center for Responsive Politics.

According to the report,

Fortenberry got $500,000 of the $1.2 million

he raised during the 2004 election from political action committees, or

PACs

....

His largest PAC donations - $10,000 each - came from the American Bankers Association; Americans for a Republican Majority; Future Leaders; Keep Our Majority; and Together for our Majority.

At least three of those PACs were fundraising arms of fellow House members, including Americans for a Republican Majority run by House Republican leader Tom DeLay of Texas and Keep Our Majority, run by House Speaker Dennis Hastert of Illinois....

So far

during the 2005-06 election cycle, Fortenberry has received $106,500 - or nearly 67 percent - of his total of $159,000 from PACs

, according to the report.

The average for a freshman House member was 43 percent, according to the report, which analyzed Federal Election Commission data.

His largest donation this cycle was $10,000 from the Americans for a Republican Majority PAC. The Farmers & Merchants Investments PAC gave $8,750 and the Credit Union National Association PAC gave $8,000.

The report said PACs accounted for 41 percent of the money raised by all House members in the first quarter of this year....

Republican Rep. Lee Terry raised a total of $1.3 million for the 2004 election cycle, which helped him to a fourth term representing the 2nd District. Of that, 48 percent came from PACs and 49 percent came from individuals.

Thus far in this cycle, he has raised $119,000 - 60 percent from PACs and 38 percent from individuals.
Whether or not his ghosts will ever catch up with him remains to be seen, but Fortenberry will surely continue to chomp-chomp-chomp on that campaign cash until they do.
Of course, note that fellow Nebraska Republican Terry actually took more money and a higher percentage from special-interest groups in the last cycle. The difference that earns Fortenberry the title of PAC-Man is that he was running for the first time. He'd been
bought and paid for
before even casting a vote in Congress. It takes most representatives several terms to sell themselves so completely. Now, watch as those lobbyists who fund DeLay and Hastert's PACs keep pumping their quarters into Fortenberry as long as Nebraska voters let them.